Compact Dock for Nintendo Switch by Hagibis for $14/£11/15€
Switch dock? It's more like a USB hub, but it can also be used as a replacement for the Switch's dock. This gadget from Hagibis lets you connect the console to the TV or another screen more easily.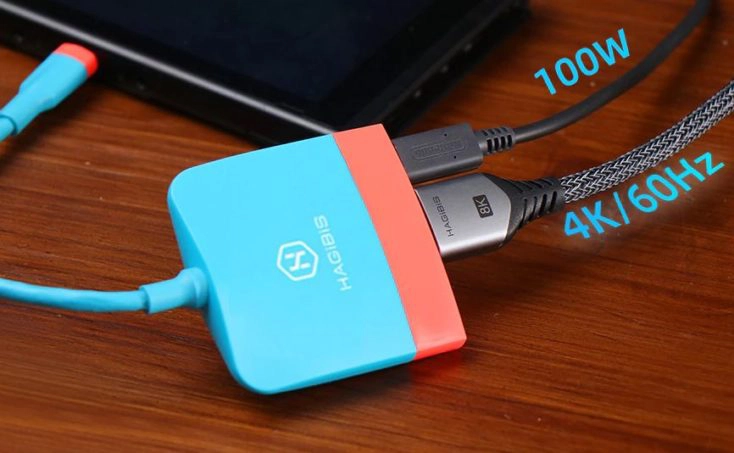 Unfortunately, the Switch doesn't do everything perfectly either. Yes, being able to use it either in handheld mode or on the TV is damn practical. But if you want to take the console to a friend's house and connect it to the TV, you have to pack the dock somehow. You have the same "problem" if you take the console with you on vacation or while traveling. Considering that the dock is just a somewhat complex USB-C to HDMI adapter, it takes up quite a bit of space.
It's easier with a simple cable – though not all solutions work here – or an adapter like this one. Actually, it's a simple USB hub. There is a USB plug on a short cable that is plugged into the bottom of the Switch. The console lies flat on its back. The hub then has three ports: The HDMI output is connected to the TV with corresponding cables. The console can also be supplied with power via the USB-C slot to run it for longer than just a battery life. In that case, however, you can almost consider using the right dock again if you want to connect multiple cables anyway. By the way, this charging slot supports up to 100 W of power.
The USB port (USB 3.0) seems to me to be for optional devices like a Bluetooth adapter. However, the gadget does not have to be used with the Switch. You can also just plug it into a laptop and then connect any devices to it. The fact that the device is marketed as a Switch accessory at all is probably only due to the color, which is after all very similar to the typical blue and red of the Joy-Cons. In fact, the device is even advertised with 4K support, which does not provide any advantage for the Switch, since the console can only display 1080p.
Alternatively, the "dock" is also available in black and white or gray, which then already reminds less or not at all of Nintendo's console. However, such a USB hub with these ports for 15€ is generally not a bad deal. If you want one for your Nintendo Switch
To the gadget