News
Veniibot Venii N1: Self-cleaning vacuum and mopping robot detects dog poo
Once a quarter, even fewer people interested in household robots receive the following horror news in the media:
The Venii N1 is supposed to react to this with the help of its sensors:
Outside the dog poo recognition we have a real monster of built in technology here. But whether Veniibot will ever bring the Venii N1 on the market is still uncertain. It could be an eternal crowdfunding prototype..
Technical data: Comparison to Roborock S6
Veniibot Venii N1

Roborock S6

Suction Power
1800 pa
2000 pa
Navigation
Laser room measurement in combination with cameras
Laser room measurement
App
unknown
Xiaomi Home (Android, iOS)
Volume
60 dB (depending on vacuum level)
58 dB (on highest vacuum level)
Battery
5200 mAh
5200 mAh
Dust chamber/water tank
1,0 l/ 0,8 l
0,48 l/ 0,16 l
Charging Time
2-5 h (various entries)
3 h
Working time
2 h
2,5 h
Weight
7,0 kg
3,6 kg
Dimensions
35 x 35 x 15 cm
35,3 x 35,0 x 9,65 cm
Gradients
unknown
25°, over 2 cm with larger tires
Features

Laser room measurement
Room division (single and multi-room cleaning)
Mapping with card storage
mopping function with vibrating water tank
dog poo recognition

Laser room measurement
Room division (single and multi-room cleaning)
mopping function
Mapping with card storage
Voice control via Xiaomi AI Speaker
carpet detection
Self-cleaning with large charging station
Veniibot says of itself that it is the inventor of self-cleaning technology. This may seem a bit strange, since iRobot was already at the starting line in 2018 with the Roomba i7+ and vacuum station. If Veniibot means that the wiping mops in the station are cleaned independently, this would be more feasible in comparison with the Narwal vacuum robot. After all, the Venii N1 was presented at the CES in 2018.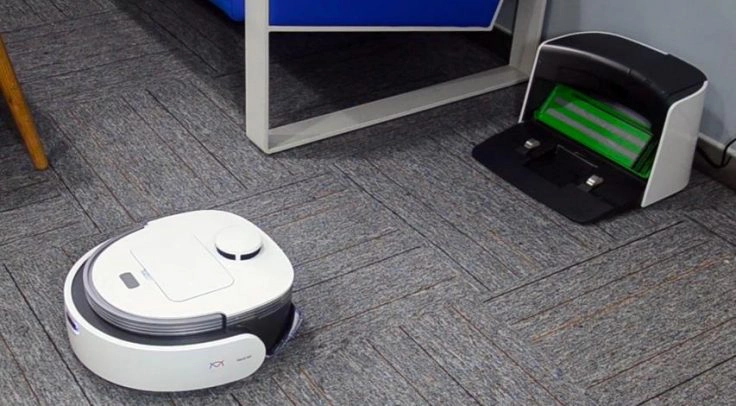 The twenty-strong team from Venii installed a laser tower including a laser distance sensor (LDS) on the top, with which the N1 measures the premises. This is supported inside by an AI and a SLAM algorithm (Simultaneous Localization and Mapping), which makes it possible to create a visual map. In addition, there is a pair of cameras on the front of the bumper. One of the two cameras allows the recognition of small obstacles such as dog poo, the other one is responsible for higher obstacles. We could already observe this kind of recognition with one camera with the Ozmo 960.
Of course, you are rightly concerned about your privacy with two lenses on a suction robot driving through the apartment, but according to Venii, the robot should not be able to store collected data in a cloud, because Venii deliberately bypasses this. In times of Big Data somehow not quite imaginable, but maybe it is an honest manufacturer. Maybe. Anyone want to bet?
Carpet detection with wipe function
The robot also recognizes carpets via the cameras and automatically operates only the 1800 pa vacuum function. How does it do this? It simply retracts the mopping function at the rear before it throws itself onto the carpet. Here's another hint: No one's ever had the model at home before, it's a prototype and you can only rely on the manufacturer's word. Perhaps the robot is not yet available anywhere because the many functions announced cannot be easily accommodated in a 35 x 35 x 15 cm small robot. Whereby 15 cm height (high built suction robots are 9.5 cm high) is anything but small.
On the other hand, records other than the height of the robot are gladly seen: 0.8 l large water tank (!), 1.0 l large dust chamber (!). The average is usually at 0.2 and 0.5 l. Every 15-20 m² the robot makes its way back to its charging station to have the mops cleaned. This is to guarantee that the N1 does not drive over any surface with dirty mops. The software package also includes carpet detection during mopping.
Outlook: Will the Venii N1 also come to us?
It certainly has its reasons that the development process of Venii N1 has already taken more than one and a half years. Perhaps the company, which is still largely unknown, went too far out on a limp. Why we're telling you about the robot now: We were able to locate an AliBaba offer, according to which it is now theoretically possible for shops and companies to include the robot in their offer. In addition, we were recently able to talk to a Veniibot representative, who told us that the first models are now being shipped.
The question that remains unanswered, however, is: Where are the robots sent to? Does the technologically interesting, but dubious (prototype) vacuum robot only go to Chinese people who have financed the robot via crowdfunding, or are the usual China shops also placing orders? At least you can hope for AliExpress, other shops we currently consider rather unlikely. We will keep you up to date.
Household robots that recognize dog poo and clean themselves? Do they really need that in your mind?